Volunteer Reader
I was a volunteer for Resources For Seniors for 10 years. This is a wonderful organization that sponsors, among other programs, a Friendly Visitor Program. It is a commitment to visit a senior citizen once a week to increase safety and socialization. Please click for more information.
In 2000, I wrote this piece about how this volunteer experience has been for me:
The Weekly Reader
by John Martin
In August of 1991, through Wake County's Resources for Seniors, I met Jeane and Milton Perry -- a sight-impaired, elderly, married couple who live in the tiny town of Garner, just outside Raleigh, NC. Ever since, I have been "reading to the blind" two hours a week, every week, for eight years.
The Friendly Visitor program couldn't have done a better job matching a volunteer with a client. Both of us had very specific needs, which complimented each other's perfectly. At that time, I had come to miss having "grandparent figures" in my life, and began to look for a way to remedy it. That need, combined with my love of reading, meshed nicely with an older, sight-impaired couple's need for a reader. Over the years, we've established a ritual so sweet and fulfilling that I feel guilty calling it volunteer work. It's just plain fun, and there can't be any better "Chicken Soup for the Soul."
Our visits begin with my weekly afternoon phone call, saying, "So what's for dinner?" We agree on takeout from one of our favorite places -- Captain Stanley's, Pizza Hut, Arby's, Wendy's (that Grilled Chicken Salad!) -- and I pick it up on the way to the house. I'm always reimbursed as the wallet is opened and a carefully chosen flat-pressed one, or folded-in-half ten, or folded-in-half-yet-again five is plucked from within.
As I pull into the driveway, Rhoda, their beautiful jet black poodle, darts from the back of the rocker in the sunroom window, where she's been on guard duty ever since Jeane said, "John's on his way!" She pummels the aluminum storm door panel until Jeane lets her out to greet me. After a couple of crazy chest-high leaps, and several spiraling circles around me as we make our way to the door, she slips in ahead of me, jumps onto the barstool, and snorts desperately at this week's feast. For the longest time, I thought it was me she was glad to see. That beautiful little girl has us right where she wants us!
After dinner, we tackle the mail. Halfway through, we break for the certain nudging of Rhoda's nose on my leg. I slide my chair back, and she jumps up. I flip her over, and rub the baby's belly while she cranes her neck with the sheer pleasure of it all. "Okay, Rhoda! It's back to the mail." The bigger the pile for the trash at the end, the more accomplished we feel. With most bills automatically debited from checking or charged to a credit card, we handle the two nagging holdouts -- Time-Warner Cable and the home security company. It's been a wonderful, freeing process over the years watching that number dwindle to two.
Our final reward for the evening is reading. We've read many books over the years -- from non-fiction (Unearthing Atlantis), to murder mysteries (Mary Higgins Clark novels), to books on investing (The Wealthy Barber). We're currently on a trivia book kick. I read the questions, and we both guess the answers. Jeane and I are always quite pleased with the quite useless things that we both manage to remember. Maybe it's positive reinforcement that we still have our memories, and the precious ability to recall them.
I say "we both guess" -- the two of us now -- because Milton suffered a stroke and passed away in November of 1995. He was such a remarkable man. Milton lost his sight, as an adolescent, in a farm accident. In spite of such a loss at such an early age, he had an absolute uncanny knack for directions. Once someone asked, "How do you get to Orlando from here?" And the most unlikely man in the room said, "Take 95 South. Just after Jacksonville, pick up I-4 West to Orlando." I was so amazed as I listened, half-expecting him to add, "Watch out for the construction between exits 97 and 111."
Milton loved to convert his monthly bank statements to braille and file them each away. He didn't seem interested in the bank sending the statements already brailled. Rather, he enjoyed our playful tête-à-tête -- I state only the amount of the cleared check to him, and he confidently keys in not only the amount, but to whom the check was written -- tabbing from column-to-column on that brilliant braille typewriter. I wish you could have witnessed the way his weathered fingers stormed those two rows on that curious little machine, pouring forth so many dots from so few keys.
Jeane and I both miss him terribly, but our weekly ritual keeps him close. I say to her as we open the mail, "You know, Jeane, Milton is cringing as I tear open this envelope." The only torn envelope I ever saw when he was alive was when he handed me one, while shaking his head, saying, "Jeane opened this one before I could get to it." He always handed me his pocketknife to nicely slice the unopened ones.
Before Milton's stroke, we had delved into the online world. A friend and I installed a screen reader on a personal computer Milton and Jeane had purchased, and Milton began exploring the exciting, yet still clunky, electronic world for the sight-impaired. We started with an e-mail account, and sent some e-mail back and forth. It was a determined struggle for him, and ironically, an eye-opener for me. It's amazing the things you take for granted. "Click here, Milton." "Close that window." "Put the cursor right there!"
His stroke brought a sudden halt to our venture into that brave new world. I can't describe the frustration for him, and the sadness for me, on my last visit to the hospital. I watched a man, who couldn't watch back, desperate to convey a thought he could no longer verbalize. I took his hand, as if to say, "I understand you," and he squeezed my fingers so hard it broke my heart.
My weekly visits with Jeane continue to be a joy and as fulfilling as any Sunday day in church. In spite of increasing blindness from macular degeneration, and having been so dependent on Milton for his organizational and brailling skills, she's done a remarkable job of keeping herself independent. She doesn't "sweat the small stuff," and she has some definite ideas about what makes stuff small. Now we tear into all the envelopes, and let's just say you won't find any brailled bank statements in her filing cabinet.
I am so impressed with her constant scrutiny of what's important to her and her determination to eliminate all that is not. She's such an interesting woman, with an active mind that's still open to having new and complex thoughts and ideas planted right smack dab in the middle of it. Our mutual interests -- the stock market, world events, and a commitment to lifelong learning -- continue to strengthen our relationship.
So we will walk on with our minds being open, and our needs being met -- in the comforting memory of Milton, and in the palm of Rhoda's hand.
John and Jeane reading trivia.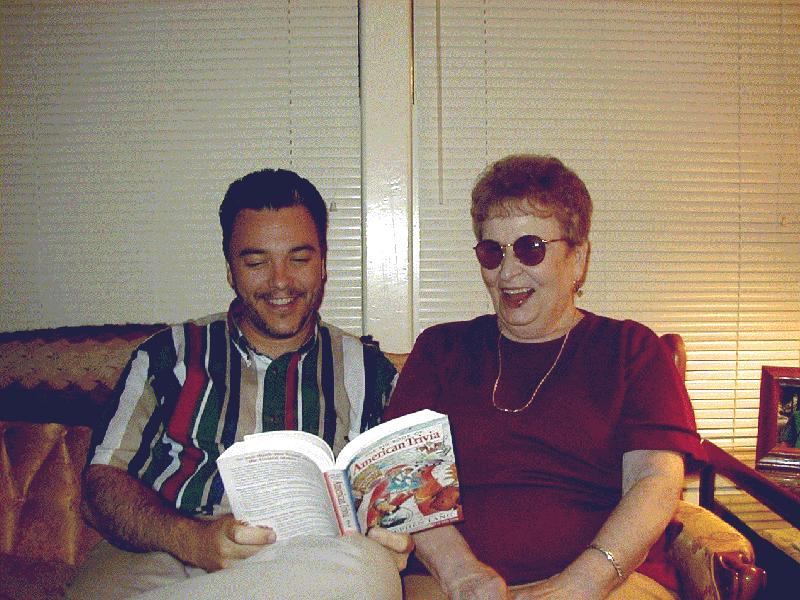 John and Jeane and Rhoda!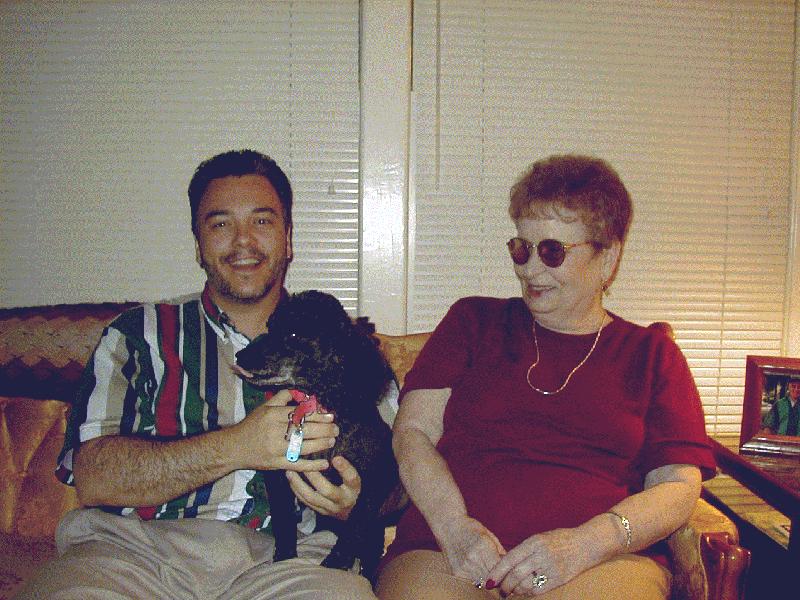 What? Is that a letter opener? John and Jeane honoring Milton's memory.