Tour de Friends Reflections
From: John Martin
To: My Supporters
Sent: Tuesday, July 4, 2003 2:59 PM
Greetings supporters!

I did it!!! I pedaled all 340-miles! Thursday: 65 miles; Friday: 115 miles; Saturday: 95 miles; Sunday: 65 miles!

On the 115-mile day, I rode for 12 hours. I left camp in Warrenton at 8AM, and arrived at camp in Richmond at 8PM. It was getting dark!

On the 95-mile day, I was on the road for 11 hours. I left camp at 8AM from Richmond, and arrived in Bealeton at 7PM. Another long day!

For those of you who have read my journal, you are not going to believe this!!! Neither Joe nor I had a single flat tire the entire 340 miles!!! And, we hit drizzling rain for about 15 minutes two different times during the day on Saturday, but otherwise no rain!!!

I'm preparing a website with pictures, and working on journal entries for the four days. In the meantime here's a picture to whet your appetite. It's me and Joe at the end of the ride holding a sign that sums it all up!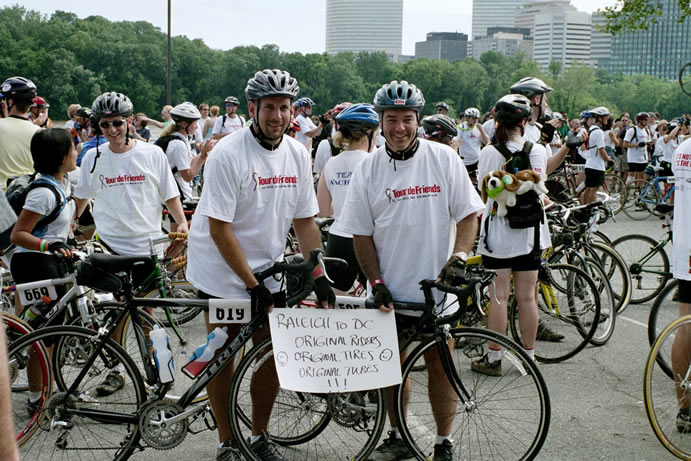 Thanks, once again, for everyone's support!!!

John
---
From: Ken Krulik
To: Team Alliance
Sent: Tuesday, June 24, 2003 2:59 PM
Subject: Welcome back and congratulations folks, we did it!!!
I hope everyone made it home safe. And now for me the post ride depression kicks in, sometimes to greater degree, sometimes lesser, but it's always there.
This message is once again to say how proud I am of the team and honored to have been a part of this event (as well as past events). No matter if you made every mile or just half the mileage, if you rode a bike or were part of the amazing corps, you're an incredible group of people and you should be proud of yourselves for what you have accomplished. Team Alliance and Tour de Friends have helped to not only raise money, but awareness and helped to promote education.
With another year I've had the privilege to make many new friends on the team and make new friends on the ride itself. I want to again say thank you to the Alliance, the great folks at TdF (staff and volunteers), all the great corps, and if I missed anyone my apologies.
You all rock and as I said at our team picnic: you have all made a huge difference in the lives of those living with HIV/AIDS, but you also honor the memory of those we have lost.
In closing, I've attached a couple of postings for the DC list (just a few of the 200 Emails I received, some even work related) that I thought were pretty interesting. For those interested, there are several bike rides coming up: July 4th-Firecracker Ride in Cary, MS-150 in New Bern on September 13-14 (?), and on October 5th there is a ride for a pediatric unit at one of the hospitals in Raleigh. I'm up for Team Alliance doing any/all of these. Let me know...
I look forward to hearing back from you and again I'm honored to know such an amazing group of people.
Ken
PS. Once we get the word on who to write, let's all send notify the "powers that be" of our support for a TdF #2 (and beyond....). And on housekeeping note, if you wish to be removed from this list let me know.
---
I came across this quote from Bits & Pieces magazine which I feel is apropos:
Don't cry because it is over - smile because it happened.
Bruce Kapner
TdF Bike Tech Team Captain
---
From: "John"
To: Team Alliance
On Day 3, at Pit 4, where the Ice Cream Man was generously handing out Nutty-Buttys and Sandwiches, I struck up a conversation with a woman who was tired of riding. She made it known to me that she had raised her minimum and that she was no longer interested in finishing the ride. Without going into specific details, I tried to persuade her to remember the reason she was riding. She took no notice of the two names of friends whom I wear as a necklace, Marco and Tim, nor did she take notice of my orange chip which hangs between those two names, identifying me as a "Positive Pedaler".

Many of you saw me passing you, on my lime-green Wilier, a triangular orange flag with a "+" emblem attached to the saddle bag, while wearing the jersey with the same emblem. When I could, I thanked you for riding and gave you a "thumbs-up". At the same time however, I felt guilty, as you looked upon a rider who was obviously not physically challenged by the ride, who was finishing the 116 mile day at an 18 mph pace, yet a Positive Pedaler. Rather than humiliation, my intention was to show appreciation for your dedication to the new ride and its challenges.

Granted, some of you may not have been able to finish each day's mileage because of fitness, or other reasons, and that in no way diminishes your dedication to the ride. However, recalling the rider who did not want to finish solely because she had sufficiently raised the minimum, made me realize that the message about the ride still needs to be reinforced...

First, we are riding to raise funds for the beneficiaries who are providing services which are drastically needed; Second, we are riding because there are still many people who are living daily with the challenges of AIDS; and Third, we are riding because we have the capability of getting out of bed each and every morning and getting on a bike to pedal 350 miles while those who are lying on a cot, or in a hospital ward, abandoned by family and society don't have the strength to sit up to see the sun rise. It is my hope that the riders who participated in this inaugural ride will spread the word and make a second Tour de Friends possible.

My heart is expanding with the thanks for all those who rode, and the Corps members who contributed to making this ride the memorable experience that it was.
John
Rider #225
---
From: Beth Russel, RN
To: Team Alliance
Sent: Wednesday, June 25, 2003 10:09 PM
Subject: Re: Welcome back and congratulations folks, we did it!!!
Hello to all Riders and Crew,
Well, we are back, and I am certainly experiencing the "post-ride-blues". I remember having these same feelings three years ago when I participated in the Ride, and once again they are hanging with me this entire week....if you are experiencing the same, just know that these feelings are so totally normal, and take about a week to "process" (physically and emotionally).
I would like to thank you all for all of your incredible energy, patience, dedication, perserverance, compassion, and will to accomplish your ultimate goal.
First of all, it took incredible energy for us all to keep up with John (a.k.a. "sissy, sassy, sexy, squirrel") and his addictive gue habit...we hope he has been able to ween himself of his sugar habit.
Secondly, your patience was definitely needed when waiting for Parker to fix his hair and "groom" for the day ahead....and he definitely LOOKED GOOD!!!!! GO PARKER!!!
And don't forget our dedication.... each day we would strike out and pedal for hours on end. At the end of the day, we would look forward to the simple things in life that would make us feel good...like the wonderful aromas of Pete and Roger, all cleaned up and smelling like "hot thangs" tucked in their sleeping bags dreaming of champagne.
It took us all great perserverance to keep up with Miss Abernathey and her eating habits...get out of her way when she is ready to eat!!!! and then try to keep up with her as she zooms up those hills (nice butt to look at too!!).
And we can't forget the compassion of Ralph and Michael Lester....they are always there to help, consult, rub, give a reality check, or sing you a song to put a smile on your face!
Lastly, you all hung in there to accomplish your ultimate goal. You made this Ride happen. I think to myself, that I can get up each morning feeling good,,,,free of AIDs, with a roof over my head, a hot meal to eat, and be surrounded by family and friends who love and care for me. You can not put a value on those simple things in life.
Doesn't it feel good to know that we have made a difference? That we have helped our fellow man...isn't that what it's all about? Thank you all for giving someone a happier, healthier place to exist. I look forward to getting together with you all again soon.
Lots of love.....Bang On!!!!
Beth Banger

P.S. Sue Banger and I plan to have a reunion party very soon...details to follow!!!
---
From: Jan Muller
To: John Martin
Sent: Thursday, June 26, 2003 4:43 PM
Subject: RE: Impromptu Celebration Tonight
Thanks, sweetie! How are your legs???

Jan Muller
---
From: Bill Brent
To: Team Alliance
Sent: Thursday, June 26, 2003 5:01 PM
Subject: RE: YOU ALL ROCK!
Team Alliance
&
All NC 2003 Tour de Friends Participants
ROCK!!
Dear Friends -
First, I want to take this opportunity to express my personal gratitude for your commitment to the 2003 Tour de Friends as both riders and Tour Corps members. For, four wonderful days I had the privilege of being in the company of some of the most incredible and inspiring individuals I have ever had the honor of knowing. You changed my life for the better and I thank you for allowing me to share the experience with you!

As neither a rider, nor official member of the 2003 Tour Corps, I was able to view the ride from a most wonderful perspective, watching each of you, as you excelled as human beings. The friendly smiles, genuine laughter, sincerer concern and unending support you shared every day of that journey with each other and each of us, cannot be adequately described with words. I felt privileged to be with you, honored to know you, and blessed to consider you each a special and dear friend. If we were not friends before this experience, then surely we are today.

You have each helped remind me why the work we do is so important, and most importantly you have reminded me that we are never in this battle alone. What each of you have been willing to do for people living with HIV/AIDS in our community cannot be measured in dollars alone, because the impact you have made will go far beyond our greatest expectations. You have given me and so many others HOPE. Our only HOPE for a better future is our continued work together to improve the lives of all people living with and affected by HIV/AIDS.
Until the Cure~
Bill
___________________________________________
Bill Brent, Executive Director
Alliance of AIDS Services - Carolina, Inc.
324 South Harrington Street
Raleigh, NC 27603
Office Ph. 919-834-2437 (x) 11
Office Fax 919-834-3404
Cell Phone 919-332-1350
____________________________________________
To learn more about the Alliance of AIDS
Services - Carolina come visit us on the
web at www.AAS-C.org Also please register TODAY for the 2003 Tour de Friends, to learn more visit www.TourdeFriends.com
---
From: Bryan Moore
To: Team Alliance
Cc: Dr. Davidson, M. Schmitt
Sent: Monday, June 30, 2003 1:34 PM
Subject: More reflections on Tour de Friends
I usually keep my personal writing to myself, but since so many people are sharing I decided to ad one more to the mix. I miss you folks. Thanks for making it an incredible experience!

Bryan V. Moore
Rider 82

Every Year, I Fall in Love
Reflections on the Tour de Friends
by Bryan Moore

Those who know me, know I don't hold back too much when it comes to my comments on the beautiful men we meet every year during the 4 days of the Tour de Friends. I'm sure my wandering eye and never ending comments get old to many people. I admit it. I'm boy crazy. But I always have been. Some might call it lust, but you have to understand where I'm coming from when I say each year, I come away madly in love.
This year, the 330 mile trek was year two for me. Year two. It almost sounds ridiculous to say. My life has been much more about dreaming of things I want to do. Not actually doing them. So the fact that I have completed this incredible journey twice is a remarkable achievement for me. This year, the experience was far more enjoyable. I wasn't so nervous. I knew what to expect, not only from the ride, but from myself.
I knew that I could do it. I had made it last year. As we began our journey, I saw familiar faces from the year past. There were people I had talked to and shared with, but whose names I now couldn't remember. The smiles and nods brought back memories and that old familiar feeling that had faded when the ride ended last year. A feeling of that special bond that develops between these riders because what we're doing is so important and what we're doing isn't easy.
Over the course of the ride I met many people, each one with a story and each one with a reason for being there. For some people it was as simple as a physical challenge. For others it was much deeper, the loss of a friend, a relative or a partner.
I met Steven, a beautiful guy who works with Food and Friends in Washington DC. The organization is one of the recipients of the money raised from the ride. He knows first hand how this money helps people. This was something like his 7th ride and he's ready for next year. I met 6 foot 4 inch Dave from Maryland. He was another one who caught my eye over the days. He had never ridden before, but wanted the challenge and the experiences the event would bring. We talked and laughed and shared our lives.
I rode with strangers, I rode with friends. I pedaled with teammates, some of whom I had barely talked to during months of training. Sometimes we rode for miles without a word. Sometimes we stopped and talked. We took pictures. We were lost in our thoughts or consumed with the simple beauty of a horse inside a fence or the seemingly endless rolls of hay lining the countryside. It didn't matter. We were experiencing the same things. Our muscles were tired. Our hands and feet tingled as we contemplated the road ahead and what hills lay beyond the curves.
Despite how meaningful all this is, the days can run together. The pit stops become blurs. I find myself asking; "was that yesterday or today or just an hour ago?" You want to take every second in and burn every face and every name and every single experience in to a life time of memories. Instead what you end up with is like a photo-album in your brain. You recall a funny experience here and a meaningful conversation there. Exactly what day it happened or what town you were in isn't really known, but it happened and really that's all that matters.
The ultimate goal is to ride into Washington DC. That's the Culmination of this event and a time for relishing your achievement. As we rode in this year, I was happy, but I was also sad. I knew this experience was ending and as tired and worn out as I was, I wanted just one more day. I wanted one more mediocre dinner under the tent. I wanted one more
restless night in a sleeping bag. I wanted one more conversation with a teammate or a rider I hadn't yet met. I just wanted more, but that old saying, "all good things must come to end," rings true. That's reality.
As I went to grab my bag after the closing ceremony I saw Dave again, my buddy from Maryland. He quickly came up to me, put his arms around me and said three simple words. "I love you." I repeated those same words back to him. As I walked away, I thought, "in any other situation, saying that after barely knowing someone would seem crazy, but in this situation, it makes total sense." Love is exactly what we felt at that moment and we both felt a need to say it.
When it was all over, I returned home, with a sense of sadness. It's the same as that day after Christmas feeling I recall as a child. There was so much planning, so much preparation and so much anticipation and then, boom, it's done. That's what happens with the Tour de Friends. During those four days a 10 minute conversation with someone is amplified 100 times. It may be small talk, but it's so much more. There's the high five at the next pit stop or a hug at days end. It's really nothing more, but it's a bond that develops and it seems to become more meaningful than some of the friendships I've had for years.
A couple days after the ride I got an e-mail from the Tour de Friends website congratulating me. I had another donation on my personal fund-raising web page. As I clicked on the link to take me there, I wondered who and why someone would send me a donation now. The ride was done. I had met my minimum. It was over.
As I read, I found that Steven, from Food and Friends, someone I had talked to maybe three or four times, had sent me a donation for $16.85. You see, my website had not been updated and my total showed $2,484.15. According to it, I was short of the $2,500 minimum. Steven didn't know I didn't need anymore money, but as I looked at the scrolling credits, showing me who had donated to this worthy cause, I saw his message, "In support of getting you over that $2,500 mark." Tears welled in my eyes. $16.85 is about the lowest donation I received this year, but it was the most meaningful of them all. It was a simple gesture from a relative stranger and it moved me.
So you see every year I fall in love. I fall in love with Steven and Dave a number of others that I come to know over the days. No, it's not romantic love and it goes well beyond the few men I mentioned here. I fall in love with a people, men and women, young and not so young. I fall in love with an experience, meaningful and unforgettable. I fall in love with a feeling of happiness and joy. I fall in love with a dream of how the world should always be.

Bryan V. Moore
---
From: Wayne Wilson
To: John Martin
Sent: Tuesday, July 01, 2003 8:36 AM
Subject: RE: Congrats! and TCW
Was anyone taking pictures? I'd love to see some!
See you later, and hope your still floating on the high!
Wayne
---
From: Ken Krulik
To: Team Alliance
Sent: Tuesday, July 01, 2003 3:05 PM
Subject: Afternoon folks, has it been over a week already??????
I want to first say thank you for all the Emails I've received, words can't express my gratitude. You guys all rock and it was great to see everyone, scattered though we were at closing ceremonies (hard to believe it was a week a go).
I've been busy playing catch-up of course, in fact I'm running out to yet another meeting and won't be back in the office until tomorrow. I wanted to check and see who was still short on their minimum (having signed the confirmation letter) and who had extra checks to distribute. Once I know this information I can coordinate a get together for folks (I can always call ahead to San Carlo near me, Dennis the manager would be glad to have us all there again) so we can split up the remaining funds. Please let me know as soon as possible.
Also, the Firecracker Ride is this Friday, I won't be riding as my bike is still in DC, but I'll be there hanging out and maybe even volunteering, Plus I'll be registering for the MS-150 in September and the Pedal fro Pediatrics on October 5th if anyone is interested. We'll still train for these, just no waiver so speeches; ya'll know the drill by now.
Just wanted to again say thank you, gotta run now but I'll be back....
Ken
---
From: Steve Coates
To: Ken Krulik
Cc: Team Alliance
Sent: Thursday, July 03, 2003 4:27 PM
Subject: One Word by Cecil

With one simple word, one can communicate all sorts of emotions, desires, wants, needs, gratitude, and love. The key to successful communication would be choosing the right word(s). Word(s) can also be communicated by our actions. I wanted to choose one word and build on it to communicate my experience with the Tour de Friends Aids Ride 2003. It immediately became ridiculous to me because when I think of Team Alliance thousands of words came to my mind. So, how does one put them down and communicate effectively the message that so protrudes from the heart? Well, I think you just start, stumble a few times, and hope the message of what's inside will prevail to all who are willing to receive...let you thoughts take you where it may...mine is in the stars...
One Word by Cecil
With one word, there's a story in itself...I'm sure these words will tell similar stories for us all in the days ahead...Team Alliance not only represents a Team-but a Family also...Out of my four Aids Rides-this year marks the most incredible one for me...Ralph Waldo Emerson said..."the gift of oneself is best"...let's continue to give of ourselves so others may be able to give of themselves...
I love you guys...
cecil
---
From: Robinson Todd
To: Steve Coates ; Ken Kulik
Cc: Team Alliance
Sent: Thursday, July 03, 2003 4:50 PM
Subject: RE: One Word by Cecil ( Well Said Cecil - Todd )
Cecil -
I don't think you or Brian could have said it any better in your e-mails regarding this amazing event. This year was an incredible journey for me as well. I could not have made it with out the help of all of you. Cecil, you failed to mention cramps ( ouch! ).
Many of you have become like family to me through out the years of doing this event and I hope that our relationships will strengthen in time. I have learned that no matter how fast or slow one might be; the feeling of accomplishment and love of the ride is one in the same.
I had one amazing experience at the end of the ride this year. As I was riding into closing ceremonies Steve advised me to go left, well I wasn't thinking clearly and went to the right side. The last stop I made that day was next to the banner with my brother's name on it. I looked over and realized immediately that I wasn't alone and my brother was with me the entire time. I then took a few moments to take it all in and Claudia taps me on the shoulder and points out to me that Terry ( my brother ) was with me every day of the ride. I was overwhelmed with the love not only from my brother's presents but the closeness of all you.
The ride could not have ended on a more appropriate note. I think all you are amazing and I am a better person in many ways to be apart of such an amazing group.
Love you all,
Todd
---
From: Sarah Siegel
To: John Martin
Sent: Monday, July 07, 2003 9:10 AM

Subject: Success!

John, mazel tov!

Thanks.
Sarah Siegel
---
From: Craig Shniderman
To: John Martin
Sent: Monday, October 20, 2003 11:21 AM
Subject: Thank You from Tour de Friends
Dear Riders and Corps,
We want to take this opportunity to bring you up to date on the 2003 Tour de Friends. But first, sincere thanks to each of you for having participated in this wonderful June ride. Each of you made an enormous effort that involved months of preparation, training, fundraising, and of course a long, long ride.
Over 1,000 people participated in Tour de Friends. We think that this was in itself something of an accomplishment for a first time event. This registration was achieved in the face of record setting snowstorms, a faltering economy, sniper shootings, and a war that preoccupied public attention.
There were 693 riders and 308 corps. Beyond these participants, volunteers committed more than 1,190 hours in behind-the-scenes preparation for the Tour.
One of our primary goals was to curtail the expenses that we had encountered with rides produced by Pallotta TeamWorks. I am happy to report that in this regard we were very successful. We reduced expenses by $675,000 compared to Washington DC AIDS Ride 7. These savings were made without compromising ride basics or safety.
The net proceeds returned to the three beneficiaries totaled $265,324. None of these funds would have come our way had it not been for your participation in the 2003 Tour de Friends.
There was an enormous amount of media coverage for the Tour. In advance of and during the event, our cause – the battle against AIDS – received a high level of public visibility. So too, did each of the three charities receive local and regional coverage of their work.
Of our eight AIDS cycling events, the 2003 Tour experienced the smallest number of participant injuries and illnesses. Each of you, with special thanks to the medical corps, created an outstandingly safe event.
So what is the future for Tour de Friends?
This event was from many standpoints a great success and certainly a labor of love. The three charities enjoyed an outstanding opportunity to work with one another and with our respective communities. That said, however, the financial return to the charities did not meet our expectations and needs.
The riders and corps received pledges totaling $2,623,288. While we were very successful in reducing expenses the event did not register a sufficient number of riders. (By way of comparison the last Washington DC AIDSRide had 1,117 riders.) It is imperative to have a large ridership in order to create a sufficient net charitable proceed.
As you know this was a prodigious effort for everyone involved and we want to be prudent in planning future fundraising activities. The proceeds will be very helpful to each of the charities. But we hold ourselves to extremely high standards and we must focus on meeting the needs of thousands of people who depend upon us each day. Regretfully we have decided that there will not be a Tour de Friends in 2004. We want the efforts of our supporters to maximally benefit the battle against AIDS and the "MegaRide" no longer looks like the way to go.
This does not mean, however, that there will be no sore muscles, communal bathrooms, or uncomfortable sleeping conditions in your future! Food & Friends is currently planning to be a part of another, albeit scaled back, three-day bike trek for 2004, the details for which we will share with you shortly. Alliance of AIDS Services-Carolina and Fan Free Clinic similarly are considering new local events. Please contact your local beneficiary for more details.
Again, thank you for your involvement and enthusiastic commitment to helping us relieve the suffering of thousands in North Carolina, Virginia, and Greater Washington.
Warm regards,
Craig
Craig Shniderman
Rider #1
President, Tour de Friends, Inc.

Home | About Me | Calendar | Journal | The Arts | Travel | Interests | Photos |
Tour de Friends | Last Wishes