Tour de Friends
June 19-22, 2003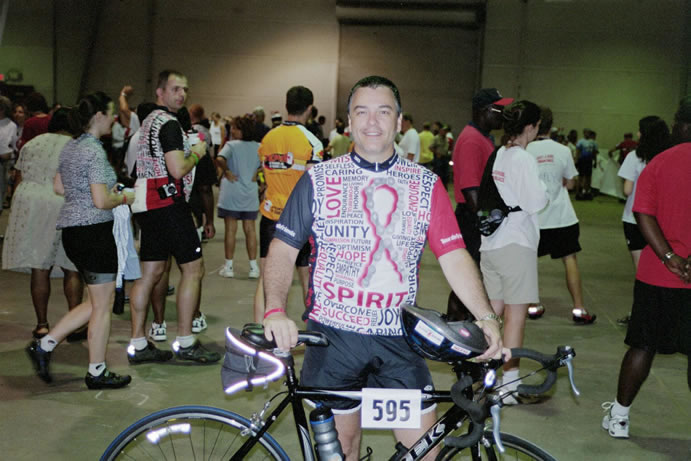 ---
Welcome!
[In February of 2003,] I [have]decided to do something exciting and challenging -- I guess most of the big things we do usually are. I am doing Tour de Friends and have made a commitment to raise at least $2500 to support the fight against AIDS. If I meet this goal by May 21, I will join almost 2000 others in biking from Raleigh, NC to Washington, DC (330 miles in four days) to raise awareness of the need for all of us to recommit to our battle against HIV/AIDS.

I say recommit because there is a notion today that AIDS is not as bad as it used to be, that it is easy to treat, and not all that hard to live with -- or even that it is over. The reality is that after two decades there is still no cure in sight, rates of infection are increasing, and there are over 1 million people living with HIV/AIDS in the US alone. The fight against AIDS in our communities is far from over.

Obviously, I can't do this without your help. So, would you please consider sponsoring me? Even $5, $10, or $20 would be a big help. A pledge of $25 (or more of course) would almost get me to my goal, counting on the number of people I hoped might be willing to support me. You were one of them.

Donations must be received by May 21, and they are tax deductible. I have donated $100 of my own money in addition to the $75 rider registration fee, and my commitment to train, ride, and fundraise.

I'm riding for my good friend, Wes, who is HIV+, and is also riding as the team leader of our team, "Team IBM." I'm also riding for two other friends of mine, one of whom is also living with HIV, and another who has passed.

I can't tell you how much every donation, no matter how big or small, will mean to me. Thank you for your support and for being in my life.
---
Our Training Rides
We trained for four months. Click here to see our training ride schedules and our training ride routes.
---
My Training Ride Journal
Before committing to this ride, about the only biking I'd done since childhood was the occasional rentals during vacation. One of the big local teams, Team Alliance, had many experienced riders, and they, along with my friend Wes, organized a "bike buying" session, for those of us who were interested, at Flythe Cyclery, which is where I bought my bike - a Trek 1000.
I decided, from the very beginning, to keep a journal of my progess while learing to ride my new bike, and training for four months, building our distance up each week. Also, I made one of the best decisions ever, I think, which was to share this journal with my supporters in 4- to6-week intervals. This turned out to be have tremendous payback. I got a lot of feedback on it, in terms of suggestions and encouragement along the way, but more importantly, it became a way for my supporters to "take this ride with me."
I made an entry after each training ride, and described each experience in terms of the training route, what I learned, what hurt, how I felt. Click here to read my journal.
---
Training Journal Feedback
In response to my training journal updates, many of my supporters sent me e-mails of encouragement. Click here to read the feedback.
---
For Whom I Rode
As the ride date approached, I received a request to add a name to the list of names for whom I was riding, of someone who was not affected by AIDS in any way. The request said, "Please honor my
sister, she is really struggling lately with her mental health, and she could use lots of positive energy and light."
I thought this was a wonderful gesture, shared it with the rest of my supporters, and so added some people to ride for just for "positive energy in their lives" Click here to see the list I carried in my pocket throughout the ride.
---
Best Wishes
Before I left on the ride, I received many good wishes. Click here to read some.
---
Day-by-Day Memories
I carried a tape recorder with me during the ride, and remembered the days in my journal shortly after the ride was over. To hear the voice recordings, read my diary entry, and see some photos of each day, click on the respective days below.
Day 1
Day 2 (Coming Soon!)
Day 3 (Coming Soon!)
Day 4 (Coming Soon!)
---
Reflections
After the ride, I received many congratulatory notes, and shared reflections on the ride by those who participated in it. Click here to read some of those.
Home | About Me | Professional Portfolio | Calendar | Journal | The Arts | Travel | Interests | Photos |
Last Wishes